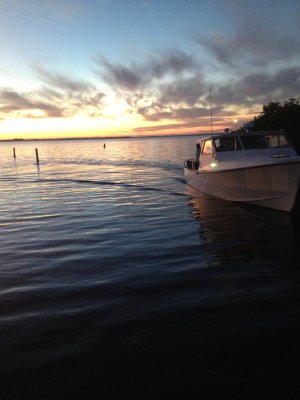 Q. How long is the water taxi ride?
A. The boat ride is generally a half hour, however it may take up to an hour. When departing the island, to be safe, allow the full hour.
Please note: Travel times can be considerably longer during peak season and high traffic times.

Q. How much does your service cost?
A.The round trip rate is $54.00 per person age 12 and up. Children 11 and younger are discounted to $50.00 per person.

Q. How can we pay?
A. We accept Visa, MasterCard, Discover Cards, American Express, Traveler's Checks or Cash.

Q. What if we need to cancel?
A. You have up to 24 hours prior to your arrival date to make any changes or cancellations. Without proper notification of cancellation you will be charged for your water taxi ride.

Q. Is the trip safe?
A. You will be traveling on U.S. Coast Guard certified vessels captained by licensed Master Captains. We have life jackets for all adults on board and some smaller life jackets for our younger passengers.

Q. Where are we leaving the mainland from?
A. You will be departing from Safe Harbor Pineland Marina, 13921 Waterfront Drive, Bokeelia, FL. 33922

Q. How long does it take to get checked in at the marina?
A. We prefer that you arrive at the marina 30 minutes before departure. If arriving by a cab usually 15 minutes prior to departure is fine. Ask us how you can save time checking in with prearranged parking when you book with us.

Q. Do you recommend a taxi company if we don't drive?
A. Please call Pine Island Taxi at (239) 283-7777 or (888) 777-9653.

Q. What if we drive our car, where do we park it?
A. Pineland Marina has convenient onsite parking at $10.00 per calendar day. If arriving after 6:00pm please call Pineland Marina 239-283-3593 to prearrange your parking.

Q. What if we are late for our scheduled departure?
A. We will try to get you on the next available boat. However, our boats may be fully booked so you will have to be patient and be prepared to take an off-scheduled or after-hours boat, which will be for an additional charge. We are aware that these problems are often out of your control so please stay in contact with us if you anticipate any problems. 239-633-8142.

Q. What if we are late for a privately chartered boat?
A.Please keep in contact with us if you encounter a delay. Our office number is 239-633-8142. If we are not contacted and a Captain is waiting there will be a $25 charge per every half hour.

Q. How many suitcases are we permitted to bring?
A. We allow for one suitcase and one carry-on per person, however if more is needed we will accommodate you. Please call our office for additional information.

Q. What if I left something on the boat or my personal property was lost or stolen?
A. Island Girl Charters will not be held responsible for lost, stolen or damaged personal items. We will make every reasonable attempt to provide a quality service in the transport of personal items.

Q. How should we pack our groceries?
A.We prefer groceries to be "Boat Packed." Boat packing is putting groceries in brown paper bags with a plastic grocery bag around the outside preventing soggy bottoms and making it easier to store your groceries. Or go the Green Way and use reusable grocery bags which work great as well. Bottles of wine and liquor can be packed in boxes.

Q. What about our perishable items?
A. You are allowed multiple coolers. Please keep them to 48 quarts or smaller.

Q. What if we don't want to, or don't have time to do grocery shopping prior to our departure?
A. We recommend that you pre-order your boat packed groceries with the Publix at Coral Shores plaza in Cape Coral, FL (239) 282-5515.

Q. What if we have packages we want to ship prior to our arrival?
A. If you wish to ship packages via UPS, DSL or Fed Ex please call Island Girl Charters (239) 633-8142 to set up an account with us and get the proper delivery address.

Q. What is there to do on North Captiva Island?
A. You can rest and relax on one of the most beautiful beaches in the world. There is dining, some shopping and even ice cream on the island. You can book private charters with us to island hop, sight see, or go shelling. We are happy to help you plan a beautiful day on the water!
If you have any other questions or concerns that are not listed on this page, please feel free to contact us at anytime at (239) 633-8142.